48 HRS IN MALLORCA - DISH DO PALMA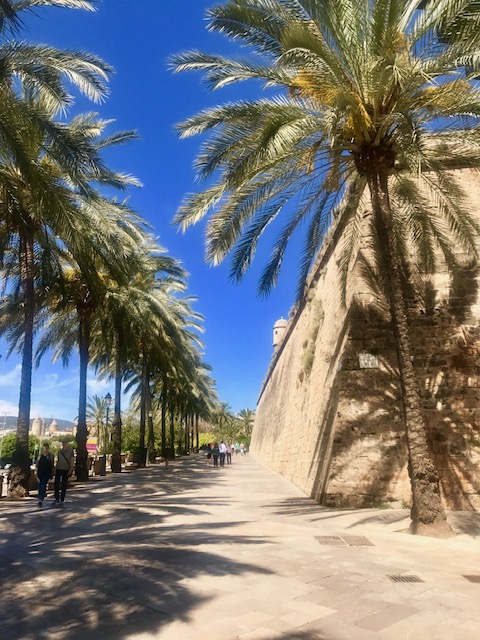 African influences and palm trees everywhere, its the culinary capital of the Balearics
Think of the Spanish island of Mallorca a few years ago and most would think 18-30's party crowds and all night drinking. Mallorca has come a long way from that, and its capital city is the new shining star in the Mallorcan crown.
WHO KNEW MALLORCAN WINE WAS A THING?
Dont get us wrong, you can still party all night if you want to, but if like us, those hedonistic early 20's are a distant memory and two day hangovers are an actual thing, then set your sights firmly on Majorca's geographic and culinary capital.
A CITY STEEPED IN HISTORY & AFRICAN INFLUENCES
Palma is a city steeped in history. North African influences are everywhere to be seen with its ancient walls and towering palm tree lined avenues. Not forgetting one of the oldest examples of gothic architecture in the world in the form of The Santa Maria Cathedral or more commonly known as The La Seu Cathederal -dating back to 13th century.
The view from our favourite hotel in Palma. Nakar Hotel and their roof top pool has to be one of the best vantage points for taking in the entire city and beyond. The cocktails are pretty God damn good too. Space is limited so get up early, or leave it until evening time to enjoy the sunsets and cool down in the pool at the same time. Your feet will thank you after all that walking and exploring.
The island has an abundance of fresh fish and casual eateries serving all day and night. One of the islands traditional dishes is octopus; served with everything from salads, to fried to straight up.
We visited so many eateries that we could never list them all. Below are 3 that stand out for us, and return visits proved that. Our all time favourite? Naan Street Food. So good that we once visited it 3 times in 24hrs. I kid you not. Check it out here.
Fresh lobster burgers & Asian chicken tacos. Those tacos! So tasty. Seconds all round.
OUR TOP 3 EATERIES IN PALMA
Naan Street Food - Spain meets Asia in spectacular fashion. Superb. Our favourite.
Koh. Another Thai place in the Santa Catalina district. Smart casual. Try the prawn rolls.

Quina Creu. Tapas with a twist. Eclectic interior. Cool vibe. Popular with locals.
Palma is the perfect getaway from Belfast, being only a two hour flight from the city. With regular connections all year round and warm Spanish sunshine from late March to October what's stopping you from visiting?
Thanks for reading!
Check out more of our travels in the posts below