DISH DO VALENCIA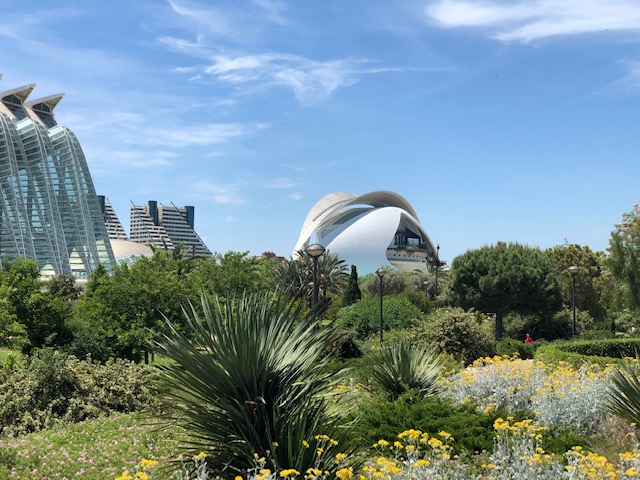 SCOOTIN', EATIN' AND DRINKIN' OUR WAY AROUND ONE OF SPAIN'S OFTEN OVERLOOKED CITIES
Quite a while ago we were just casually browsing the airline apps for bank holiday inspiration when we stumbled upon flights that were too good to pass up on; Belfast to Valencia, return, for two - £75 all in! Naturally, we snatched them up and went about booking a hotel.
OUR HOTEL - HOSPES PALAU DE LA MAR
As we have mentioned before, when searching for hotels in new cities we usually consult the Design Hotels Directory to see if there are any properties available. Luckily, Hospes Palau De La Mar had availability; a gorgeous hotel that occupies an elegant 19th-century mansion with a stunning interior courtyard, luxury spa and is situated at the intersection between old and new Valencia.
The hotel kindly upgraded us to a Junior Suite - a very large set of interconnecting rooms built into the attic of the building. We had a fabulous time staying here and would certainly recommend it to anyone looking for luxury accommodation in Valencia.
As shameful as it may sound, Valencia was never really on our radar as one of the must see spots - but having spent three days there we have well and truly had our eyes opened. The food, architecture, history and culture embedded within the city is incredible. There was so much to see and do that by the end of our trip we actually didn't want to come home.
The majority of our holidays usually focus on finding and eating incredible food - and our job was practically done for us in Valencia. The food scene here is incredible, ranging from traditional tapas & pintxos, western inspired brunch spots, to cool coffee stops and asian inspired eateries. The choices are endless - the only difficult thing is having to decide where to eat!
While walking from our hotel we noticed that quite a lot of people were getting around using bikes or electric scooters - so us being us, we decided to rent two scooters for the duration of our time. And we are so glad that we did! These little scooters allow you to zip around the city with ease; each full charge allowing approx 9km of range so there was plenty of juice to take us where we wanted to go!
Bluebell Coffee is a western inspired coffee & spot and was our go to for brunch during our entire trip. They serve everything from avocado and eggs, egg Benedict, pastries and some of the finest coffee you will find in the city. The spot was usually crammed, and even if you hang around for a table you could be disappointed as people tend to sit here and enjoy the vibe. This is definitely a place that you want to try at least twice!
We ended up spending most of our time in old town Valencia, exploring the winding back streets looking for unusual spots to get a G&T and something interesting to eat. Our favourite spot to eat at (so much intact we ate here 5 times) was Casa Victoria on the Carrer de Calatrava. This cosy little spot is owned and run by Victoria, a 4th generation local who is about to have her own little Victoria who will no doubt take over the reins when the time comes. Expect lots of locals, absolutely amazing ham, cheese, oily fish and croquettes all accompanied by local beer and wines. You do not want to miss this place!
On our last day we decided to scoot on down to the marina and harbour area. Normally this would take approx. 50 mins but with our scooters we were down in a flash. We stopped off at the City of Arts and Sciences, or Ciudad de las Artes y las Ciencias if you're feeling fancy. This is an amazing park, and although we didn't visit any of the exhibits it was still an amazing sight to see. You could spend all day here, so pack a picnic!
Thanks for reading! Be sure to check out our other travel & food posts below