DISH DO ENNISKILLEN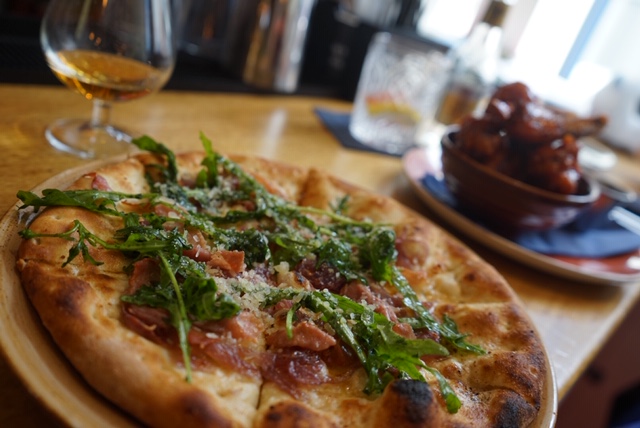 ENNISKILLEN TASTE EXPERIENCE
WE CHECK OUT THE FOOD SCENE OF THE ISLAND TOWN
Last weekend we were invited to the unique island town of Enniskillen to explore its food scene by participating in their new taste experience food tour. Warning - do not read this if you are hungry!
Enniskillen is approximately 90 minutes drive from Belfast, so it is ideal for a weekend getaway; you feel as though you are a million miles away.
THE ENNISKILLEN TASTE EXPERIENCE
A relatively new venture, the Enniskillen Taste Experience offers you the chance to tour the town, guided by Mark, the owner; a knowledgeable local resident who certainly knows his stuff.
The tour kicks off from the Enniskillen Castle at 11 am on a Saturday morning. We arrived bang on 11 and were welcomed by Mark, who offered us some much needed tea and coffee. We joined the rest of the group and got chatting before we set off.
The tour takes in all the best aspects of the food scene in Enniskillen. Our first stop was to visit community baker, Joe , who served us some incredible sour dough bread with locally sourced bacon.
As we wandered through the town, the sun was shining and everyone was in good spirit. Our next stop was to the Happiness Trap, an award winning vegetarian cafe and eatery. The things this place can do with vegetables is unreal! We got to try their afternoon tea; a selection of baked treats, some of which were vegan friendly.
We also stopped off at The Firehouse - one of our personal favourites. This place has an incredible Bertha Oven that the chefs use to cook the most delicious steaks. They also add different woods and local peat to give their food a beautiful smokey flavour. We got to sample some of their stone-baked flatbreads, pork crackling bites, pork belly and a superb serve of Boatyard Gin, which is also from the local area.
Another of our stops was to 28 Darling Street, an impressive, progressive restaurant owned by chef Glen Wheeler (hot off The Great British Menu). Think fine dining but in a casual setting. This place is certainly somewhere we want to try again for a full meal - the taste of the menu we sampled had us yearning for more.
There were so many other stops included in the tour, but we don't want to give it all away! You can book your own Enniskillen Taste Experience by clicking here - trust us, you won't regret it! Prices are from £45. But make sure you don't eat any breakfast before you go. Thank you to Experience Enniskillen for inviting us to your beautiful Island Town, to the Westville Hotel for graciously hosting us and to Mark at Enniskillen Taste Experience for a memorable and enjoyable tour of your home town.
Thanks for reading! Check out some of our other posts below!